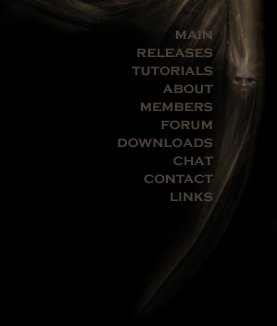 Noir, like any such group, did not spring up from nothing overnight. Noir's roots stretch back to an earlier art circle which called itself "Overdose", which lasted little more than a week. The a number unsatisfied members of the defunct group reunited, vowing to create a more lasting organization.
On October 13, 1997, under the leadership of Raptor, Caynan, and Cyberd, Noir was born. The group quickly grew as members from Overdose joined -- Rival, Dzeni, Merchant, The_Solo, and Death_Bringer among them.
Though Noir was founded with stability in mind, its infancy was anything but smooth. The petty rivalries of other groups blemished Noir's early days, and Noir's home moved from site to site and domain to domain. This period of instability, however, was also a time of collaboration and guest releases, in which Noir established itself as a premier art group with a wide network of contributors.
The expansion of this period also saw Noir's content grow from simply visual art to a fully multimedia array; excellent composers such as Shojin, Kaotik, and Castman joined during this time, and Noir's "traditional" field of visual art diversified as well. Of course, during such transition, many members joined, and others left.
After flourishing, Noir went into a period of remission: for six months, no art pack was released. This period provided an opportunity for major organizational advances, and the art pack technology was improved to allow for direct viewing through web-browsers, where previously a ZIP or RAR download had been necessary.
With this advance, Noir moved from simply being known within the "art scene" to being a full Net phenomenon. Riding on the rush of positive feedback, Noir entered a demo competition -- using a video by member XrascalX -- and took second place. This in turn earned Noir the recognition to achieve a permanent home at noir.org, sponsored by RON. Unfortunately, as had previously occured, a flurry of success was followed by a long period of dormancy -- which has now come to an end.
Now five years old, Noir has grown past its infancy, and is ready to achieve all its childhood aspirations. So hold on and get ready, cause you ain't seen nothing yet.
All releases, past and present, can be found at http://www.noir.org/Releases.html.